Your conscious will is nothing but a mirage! It's only a recent addition to your system and occupies the tiniest of place. Most of our actions are driven by a non-rational subliminal motive. And guess what's that? The Unconscious! 
The Unconscious came right from evolution. The way we experience the world is largely driven by this unconscious processing. Yet, it has always been the most mysterious element of our minds. Nobody is consciously aware of what goes on there and yet we are motivated by it, to do the things we do. Unconscious behavior ranges from things that we don't know are happening in our brain, yet they influence us to a great extent. 
A lot of things happening in our socio-environment happen to affect us in a subliminal way. It's not particularly about flashing something. Instead, it's about the things you don't realize you've sensed. The unconscious behavior is something that occurs without a sense of control, awareness, and intention. You must be wondering if there is such a lot of mystery surrounding the unconscious mind, how was it discovered in the first place?! 
The Discovery and Freud:

 
Thanks to the Austrian neurologist Sigmund Freud who first talked about the unconscious mind and provided us a completely different view of the human mind. 
Now, here's how he discovered it. As a neurologist, he came across patients with various symptoms that went beyond mere physiological problems. He seems to have sensed that these problems of his patients routed from an area of the mind that is not easily accessible!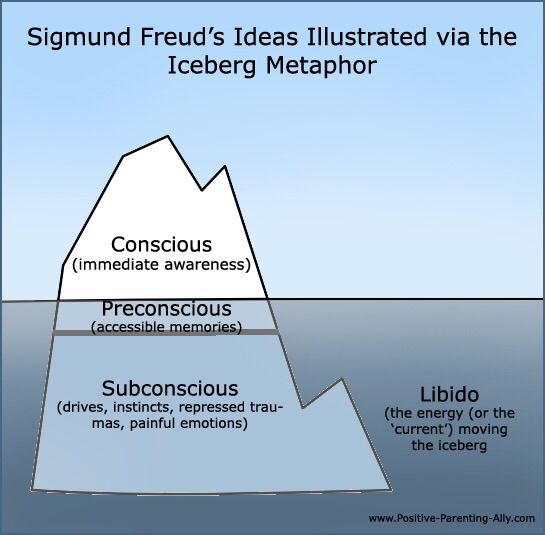 Thus, he tried to find ways to access these unreachable parts of the human mind through hypnosis. That's when he realized that these thoughts were actually repressed as a result of a traumatic association.  For example, one of the patients didn't remember being sexually abused as a child though he spoke of it when he was hypnotized. 
Thus, Freud theorized this idea and termed these repressed memories as 'unconscious'. He came up with various solutions to access these unconscious thoughts through dreams, free association, hypnosis, etc. He is, undoubtedly, the father of psychoanalysis – the first ever fully developed psychotherapy. 
Neo-Freudians:
Freud's theories couldn't be staunchly backed up with scientific evidence, which led it to be treated with skepticism. He has been regarded as the most controversial researcher of his time and in the present as well! 
Many of Freud's students built upon his basic idea of the unconsciousness and revised some parts of it. These were known as the Neo-Freudians; including Anna Freud (Freud's Daughter), Alfred Adler, Carl Jung, Karen Horney, Eric Erikson, etc. Freud's ideas have been changed to such an extent that only a few strict psychoanalysts exist today. Nevertheless, most of these theories can be seen in practice under the psychodynamic approach.    
The Modern Approach:
The modern approach of the unconscious mind is called the psychodynamic approach. Anything related to internal conflicts and unconscious forces is studied under this field. The unconscious behavior seems to be agreed upon more than the conscious behavior for various reasons such as skepticism behind our personal habits, likes and dislikes, intuitions and first instincts, etc.  
Dr. Leonardo Mlodinow talks about how the modern unconscious is different from the Freudian. There's no repression that occurs in this kind of unconscious neither can it be accessed through therapy. Biologically speaking,  it's stored in a place whose parts are thoroughly inaccessible to the conscious. Also, the subconscious, non-conscious and unconscious is used interchangeably.
The Freudian unconscious is hidden from you for psychological reasons such as traumatic experiences. However, the modern advancements in the field reveal that the new unconscious is not accessible because the parts are in nature not accessible to consciousness.
Having said that, 'not being accessible' doesn't mean 'not being influenced'. Just like James Vicary who decided to influence the unconscious minds of people to revive his failing business. Though it was a hoax, it gained such popularity that it's experimented in the present too. Various experiments have proven that we're ruled practically ruled by our unconscious!
How we're majorly influenced by the unconscious mind:
As Carl Jung rightly said, "These subliminal aspects of everything that happens to us may seem to play very little part in our daily lives. But, they are the almost invisible roots of our conscious thoughts." 
The unconscious dominates all your senses and thoughts. You sometimes see things you don't see. Have you experienced this instance where you expect to see something so vigilantly that you almost see it for a micro-second? Well, it is highly possible to have an illusion like that if you're eagerly expecting to see it. That's because your eye is intently looking for that very stimulus and your unconscious is making it up, and what's next? Your conscious brain believes it for a fraction of second! 
The unconscious is largely involved in our sensations such as vision, hearing, touch, taste, and smell. Besides this, it is also responsible for our social perception and memory. It constructs all the judgment based on the limited information available, by employing context, our expectations and desires, prior knowledge and even our beliefs. 
1. Vision:

 
Our experience of vision is not a direct recording of what our eye picks up. For example, we see the railway tracks bent at a far distance. But, that doesn't scare us off saying the train can be derailed; because we have our unconscious telling us that the eye is a fool!
Thus, we can infer that our vision is not objective but rather constructed by our minds. In addition to that, we have a lack of control over our unconscious perception. For instance, if you place a bicycle right beside where you're standing and take a picture. Later, place it 200 meters away and take a picture. It obviously appears smaller. But, are you able to make yourself believe that one is smaller and the other one isn't? Your unconscious is highly context-dependent and lacks control. Thus, you won't believe your vision. It's basically like the brain guesses and the conscious mind believes it. 
2. Hearing:

 
Hearing is not a direct recording of what we experience either. Our hearing fills in the gaps when we know what is being said. For example, you're reading an audiobook and there's a message notification that pops up. But guess what? You still knew what the audio uttered when your phone chimed. A better example would be the game of Chinese whisper. One person whispers a thing and the last person says something completely different! What goes wrong? Your brain guesses the things you didn't hear right. 
Now if you hear your favorite song, it makes perfect sense. Now add a twist, play it backward and it sounds utter non-sense! You lack control to make sense of it. But this doesn't end here. Let's say this nonsense that you hear is given some sense with the help of lyrics. Now, even if the gibberish is played without any lyrics, we can still interpret it. That's how the conscious mind relies on clues to make sense of the nonsense. Haha! 
What actually happens here is, the context is employed to make it sensible and now you lack the control of hearing it as nonsensical like before.
3. Taste and Smell:
The food that smells better, tastes even better and vice versa! And why does this happen? Well, 90% of what we call taste is actually the smell. Have you ever noticed that when your nose is backed due to cold, it affects your sense of taste too? 
There was an interesting case study where the patient suffered from a nose injury and lost the sense of smell forever. For some initial days, he complained about it, but later he claimed that he smelled everything normally. Now, if you carefully analyze, it wasn't the sense of smell that he gained back. Rather, it was unconscious memory of smell that made him believe he could actually smell the cup of morning coffee, or his favorite perfume, etc. 
Another important point that deserves your attention is 'taste aversions.' Well, if you eat a strawberry cake and have a bad stomachache after a while, you're unlikely to eat that cake ever again! And who tells you not to eat? The unconscious. It questions the novel tastes and examines the limited data available surrounding the illness and make a fair guess. Thus, you'll develop an aversion towards it. You're covertly conditioned! 
4. Touch:
Touch generates a feeling of trust and bonding in all living beings. There are nerves located in the arms and face that sense the touch as a pleasant sensation rather than touched by what or whom. This is the reason why we make social interactions in a particular way and why there's the whole concept of personal space. It enhances emotional closeness among individuals. The sense of touch highlights the trust amongst individuals even if we don't remember being touched or if we're utter strangers.  
Surveys have consistently proven that people tend to do things in your favor if touched lightly. The acceptance rate has constantly been higher. For instance, in one of the experiment, 70% of females gave their contact number to a stranger when he lightly touched their shoulder with the very same pick-up line. On the other hand, only 20% gave their contact number when there was no touch involved whatsoever! 
5. Social construction:
Just as it's difficult to perceive a picture and audio differently, after being associated with various clues; the same way, when we're told about a person it's hard to perceive them differently. 
Social perception also has tricks that audio and visual perception have.  As in vision and hearing we use shortcuts, similarly, we use shortcuts in social perception when we need to make a quick assessment based on the limited information. That's why it's difficult for us to view someone positively if we're told negatively about them. Our powers to assessment and estimation are easily thrown off. By subtly defining context in people's minds, you can influence their honest or impartial judgment. 
Our social perception is not a direct result of what we experience either. It was experimentally proven that people tend to vote competent looking leaders more often. The way people look is directly related to the votes they receive. You think you're judging the person for looks but your unconscious mind is telling you that they're more competent based on this little shortcut of vision. 
Not only limited to the perception of others, our unconscious mind constantly keeps telling us to keep going. It has a strong motivating self-perception, which is much much needed for our survival. It helps us to deal with challenges.  Our mind uses this tool to have a better view of ourselves. That's the reason why we tend to trust good news about our health and worry about the bad ones if our doctor says so.
When self provides the context, you tend to rate the most favorable data to yourself if options are provided. For example, if there are two weighing machines and one shows your weight as 60 kgs while the other shows it as 70 kgs, you tend to choose one that's the most favorable to you. That's how motivated reasoning works! We remember good things about ourselves better than bad things.
Moreover, in an interview setting or for a survey/questionnaire, you tend to embellish yourself with the best qualities possible! This not because you are proud or anything on those lines, but because it is unconscious and needed to suppress your inferiority complex.
6. Memory:
Your memory works the similar way too. In connection with your self, you tend to remember the favorable things that you did better than the unfavorable things. Moreover, we just tend to remember a gist of the things that happened. What we do in reality is just filling in the gaps and believing it as what really happened! This is the reason why eye witness testimonies cannot be trusted and have to go through careful examination. 
Elizabeth Loftus has time and again demonstrated how our memory is constantly updated and is never a stable process. We tend to make-up things in a way that's pleasing us. This usually takes place after the event has occurred and we tend to incorporate information from external factors whether correct or incorrect. This is, of course, happening unconsciously and we lack control over it. However, it has had ill-effects too.
For example, there was a theft in a mall and the police held three accused from the surrounding and asked the victim who committed the theft. The four accused included an African-American male, a Catholic priest and a middle-aged white American. The victim pointed out at the African American male as the thief though he was innocent. Luckily for him, the real thief confessed his crime. From this instance, we can infer that memories are biased and build with the help of limited information, prior information and our beliefs. 
This is how we are all being influenced by our unconscious minds. It's hard to control it but there are ways it can be influenced certainly. One can be manipulated subliminally when posed questions differently. For example, if we ask someone, do you think the cost of this necklace is more than $6000? They'll automatically estimate a higher cost. In contrast, if you ask, do you think the cost of this necklace is more than $60? The estimated cost will be very low. This phenomenon is called anchoring. That's how we're manipulated through advertisements. Check out how subliminal messages control you.
 Thanks for reading!