Amidst the global panic scientists and researchers from every nation have teamed up against one deadly enemy. Researchers and the big giants in the field of Artificial Intelligence have also joined hands with them in order to help elevate this global crisis. Not only that, but AI can also help us anticipate and prevent any further Pandemics in the future but that is something for another article. For now, let's see 
1. AI Can Help in Finding Vaccine Against COVID-19
Vaccines provide active acquired immunity against infectious diseases, meaning the preparation usually contains weakened pathogens or an agent that resembles them such that it can invoke an immunological response from our body. Our body has T- lymphocytes aka memory cells that invoke quick action if our body encounters the same pathogen again.
 All vaccines work on this simple principle but developing one, especially for a disease like Corona, isn't easy. To counter such a disease, 3rd generation vaccines are required. These vaccines contain genetically engineered plasmid along with the part of the pathogen's genetic material that encodes for its antigen production. In response to these antigens our immune system produces antibodies; the memory of which is stored in T-lymphocytes. 
The problem here is that to find a cure, scientists first need to understand the unique 3D structure of the viral protein. Once the structure is known, it's the path of action can be determined and a cure could be worked upon. But to examine every possible structure is a Herculean task, here AI can help by accelerating the development of 3rd gen vaccines. 
Artificial Intelligence can help understand viral protein structure in very little time and suggest vaccine components. AlphaFold by Google DeepMind has been at it since January. When tested on COVID -19 in  March it released structures of several proteins associated with the COVID-19 virus and this is how AI is fighting Coronavirus.
One of the structures provided was an accurate match of the structure of spike protein that attaches to human cells in order to cause infection. The structure provided by AlphaFold was confirmed by researchers from the University of Texas and National Institute of Health, who had been studying other Corona-like viruses such as SARS-COV and MERS-COV.
2. Diagnosis from CAT Scan Images 
We fear the unknown and fear gives rise to irrationality and panic.
The symptoms of COVID-19 disease are so similar to that of the common cold that some of us might confuse the common cold with Corona and panic while the rest might ignore Corona symptoms for those of common cold and become a vector. 
Hence, a fully automatic diagnostic tool could come in handy. 
Why CT-Scan? 
When reverse transcription-polymerase chain reaction was performed on the virus samples obtained from sputum or nasopharyngeal swab , it showed a very low positive rate in early detection. 
Incase of CT-Scan, the images showed characteristic features that could be easily distinguished from other types of viral pneumonia. 
Method : 
Dataset collection 

Process flow :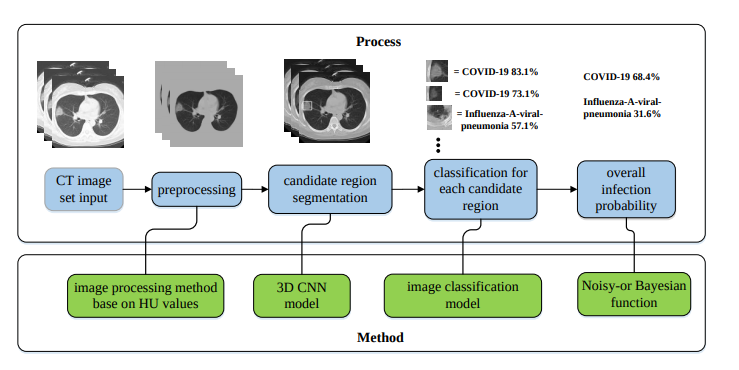 CT-Scanned images of the pulmonary region(lungs) are processed in order to determine infected regions.

From these images, multiple candidate image cubes are isolated using a 3D deep learning model.

Using location attention classification model,  images are categorized as COVID-19, Influenza-A viral pneumonia and normal; along with their corresponding confidence score.

The noisy-or-Bayesian function is used to calculate the total confidence score and determine the infection type.
 Out of all the cubes generated using the 3D segmentation model, only the part lying roughly in the middle of the cubes was the area containing maximum information about the infection. Hence, only the areas in the center along with adjacent neighboring cubes are considered for further processing. These were then labeled under two categories: infected and normal.
Furthermore, to prevent overfitting and increase training set, generic data expansion methods such as flipping, mirroring, etc can be applied.
Location-Attention Classification Model:
COVID-19 infected areas show three distinguishing characteristics, viz :
Ground- glass appearance 

Striking distributions along the edge of the inner lining of the lungs(pleura).
More than one focus on infection for each case 
 The model is designed to distinguish different infections based on appearance. Since COVID-19 majorly infects pleural regions, relative distance from the edge is used for the model to learn the relative location of the infection. It is calculated as :
Measure the minimum distance from the mask to the center of the patch.

Obtain diagonal of the minimum rectangle that premises the image.

Relative distance from edge = distance from step1/ distance from step2 .

Abnormality in lungs
Network structure :
Two CNN 3D classification models are used, viz : 
ResNet Based model: used for feature extraction from the images.

Previous model structure concatenated with location attention mechanism in a fully connected layer.This improved accuracy.
Before proceeding to this step, the value of the relative distance from edge must first be normalized.
Pooling is done to prevent overfitting and for dimension reduction.
Taking roots from the Bagging prediction algorithm, each candidate region is divided into three parts: one central cube and its two adjacent neighbors. 
 If two of these images are classified into the same category, the one with maximum confidence score is selected. 

When no type dominates, an image with a maximum confidence score is selected.
Noisy-or-Bayesian function :
Total confidence score (P) for one infection is calculated using: 
P= 1- MUL(1-Pi)
The confidence score of COVID-19 and Influenza A viral pneumonia is calculated and based on the dominant score, classification is performed.
However, if P=0 for both, then the region is labeled as normal.
If one of the values is zero, the other one is considered dominant otherwise, the Softmax function is used to generate two confidence scores.
Detection Using X-Ray :
Why X-ray?
The COVID-19 affects the epithelial cells of the respiratory tract, it is given out in x-rays and hence x-rays can also be used to detect COVID infection.
Dr. Joseph Cohen has published the X-ray images of COVID-19 affected in this repository. Along with COVID-19, this dataset also contains images of SARS, MERS and ARDS infections.
Of these, only the ones showing COVID-19 infection were parsed and along with X-ray images of healthy people, were used as a dataset .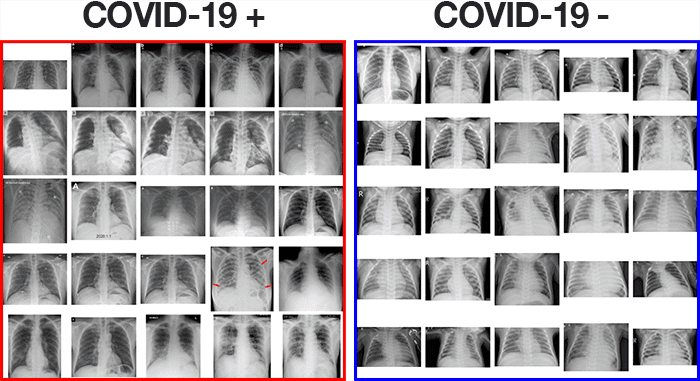 The source code for reference can be downloaded here.
 Method :
Import necessary packages.
Construct argument parser and parse the arguments .

Initialize the batch_size, initial learning rate, and epochs.

Next we load the dataset. For each image path we first extract class labels, ie, if it is normal or COVID. Then we load and preprocess the image. We convert it into RGB channel ordering and then resize it to 224×224 pixels.

Then update the data and label list. Then scale pixel intensities to the range [0,1] and convert data and label to NumPy array format.

Labels are one-hot encoded.

Train – test split (80% for training and 20% for testing).

Data Augmentation is performed by setting random rotation to 15° clockwise or counterclockwise, in order to ensure that the model generalizes.

VGGNet model is initialized as :

Furthermore, the model is compiled using adam optimizer with learning rate decay. We use binary cross-entropy loss as it is a two-class problem.

Model is evaluated, the confusion matrix is calculated and the results are plotted.                                                   Reference from Detection using ML
Ever since COVID-19 came into the picture, a lot of research papers  have been published. And to thoroughly go through such humongous volumes of literature from each laboratory is a tough row to hoe. Nonetheless, scientists have to keep themselves updated on the developments from around the globe. Enter AI. 
Allen Institute of AI et al. has produced the COVID-19 Open Research Database(CORD-19) consisting of 44k research papers on COVID -19 and other Corona-like viruses. These resources , with the help of NLP has been made machine-readable to make things a little easier for the researchers. 
Literature-Based Discovery 
With AI having access to such large resources like CORD-19, it can connect dots and find some pattern to identify hypotheses and suggest experiments or even treatments, which otherwise could have been difficult to recognize or even looked over. 
Literature-based discovery, for the first time, was put to use in 1988 by  Don R. Swanson. His automated system suggested a treatment for migraine: Magnesium. 
With the introduction of deep learning-based NLP tools like SciBert, the potential for literature-based discovery has grown many folds. 
Detection of the Spread of Disease.
In December 2019, an AI-based startup Blue Dot detected a cluster of unusual pneumonia-like infections in Wuhan and also warned against its spread, accurately predicting where it would span.
AI can also help track and map the spread of disease in realtime.
Robots Helping in Healthcare
Robots have been put to use in hospitals to reduce human interaction. 
Conclusion 
AI is a tool that when utilized along with the human ability of logical reasoning and judgment, can be a boon to humankind.  
This article is just an aid for those interested in CV/DL, though it's not scientifically scaled.